Benson's had the privilege of hosting Billy Hoekman in Lakeland, Florida for a Facebook Live where he and Benson's owner, Debbie Lange, spoke about the importance of pet nutrition.
Billy is the VP of Nutrition with Green Juju, a company dedicated to increasing your pet nutrition resulting in a longer, healthier life for your pet.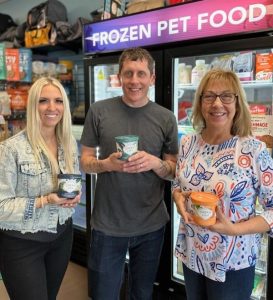 In this live, Debbie interviews Billy as they take you through some of the Green Juju products. They discuss ingredients and how they help the body function, how Green Juju makes the products, and how these fresh products will benefit your pet's health and lifespan.
Pet nutrition is such a factor when trying to combat disease. So many different ailments can be relieved or even cured based on proper pet nutrition.
Tune in to see what tips and tricks Billy offers and how you can incorporate Green JuJu into your pet's diet.
This doesn't have to be a hard transition and Billy breaks down just how easy it can be for you.
Watch the full Facebook Live interview here
Do you have any questions after watching? Feel free to reach out! Always happy to hear from and you and to help where we can.
Don't forget to stop in soon to see what new and exciting products we have for you and bring your pup along so they can grab their free cookie! We love Polk County Pets and are so happy you trust us with yours!